Satel Operating Centre
Feel secure, every day.
Satel is the operating centre of Gruppo Sicurezza, active 24/7, 365 days a year. Satel coordinates and manages all of Gruppo Sicurezza's interconnected divisions and services, offering you the chance to live your life serenely.
Satel operating centre oversees the handling of all alerts concerning attacks, burglaries, fires, sprinklers, and technical alarms; as well as real time satellite geolocalization of people, goods, and vehicles, offering full coverage of European territories, and a constantly active call centre for tech companies.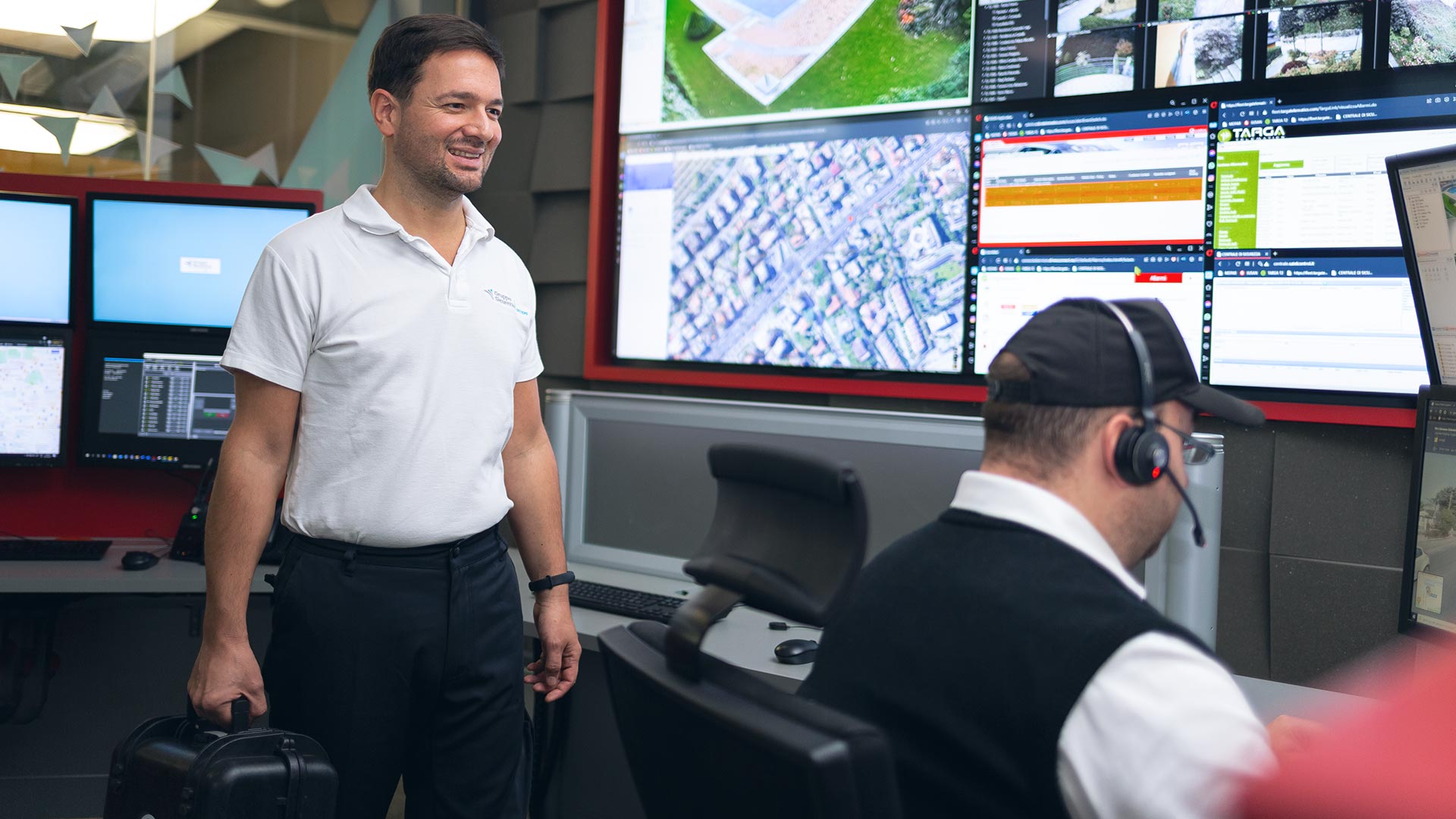 All your security, under control.
Prevention, control, action, and assistance.
The control centre is crucial to security, in order to come up with an effective plan of prevention and respond immediately, whenever necessary. Furthermore, our offer also guarantees timely, continuous assistance. Pairing advanced technology with highly qualified personnel ensures multiple possibilities for protection, making us the ideal partner to entrust with your complete security.
Personal Sentinel.
Personal Sentinel is a portable satellite-controlled, geolocalized device linked to the Operating Center. Subscribers are entitled to quick and precise localization of their position and – if necessary – prompt, targeted intervention is launched.
Video surveillance of public and private buildings, public and private areas.
Our video surveillance relies on a system of video cameras active 24/7 to allow the Operating Centre to monitor in real time, enabling immediate, specific security interventions in case of reported issues or alarms.
Assistance, call centre, and telephone answering services.
Our satellite-connected, computerized, multi-functional Operating Centre offers 24-hour high-quality, professional telephone assistance to corporate clients.
Alarm management of SATnet-equipped fire, sprinkler, and anti-intrusion systems.
SATnet technology allows for permanent and constant monitoring of the link between the security system and the Operating Centre, thus ensuring that, in case of disruptions, an alarm signal is sent immediately.
Localization and satellite protection
Our technology utilizes a GPS localization system and GSM communication system. This combination, assisted by management software and computerized mapping, allows protected vehicles and trucks to be localized and tracked worldwide.
Emergency intervention patrol services
If a notification arrives – though a customer's call or an alarm signal – Gruppo Sicurezza immediately launches the emergency intervention patrol service, who can respond rapidly and collaborate in tandem with the local police.